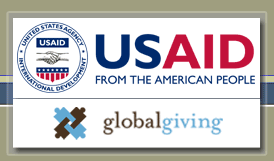 Home | Choose a Project | Links |Learn more | Welcome Guest – Login |Giving Cart | FAQs |Democracy & Governance |Economic Development | Health

  IraqPartnership FAQs
Please browse through the following list of questions, and click for further details. If you have a question that is not answered in these FAQs, please contact us at [email protected].
GENERAL
About IraqPartnership
1.1 What is IraqPartnership?
1.2 What is USAID's relationship to IraqPartnership?
1.3 Does IraqPartnership charge a fee?
About GlobalGiving
2.1 What is GlobalGiving?
2.2 What is GlobalGiving's relationship to IraqPartnership?
2.3 How are GlobalGiving's services different from those of other giving facilitators?
2.4 How is GlobalGiving funded?
2.5 What is GlobalGiving's mission?
Projects
3.1 How are IraqPartnership projects identified and selected?
3.2 How does the money get to the project?
Security and Privacy
4.1 What is the due diligence process, and how do I know the project leader is trustworthy?
4.2 What is IraqPartnership's privacy policy?
INDIVIDUAL
Making a Donation
5.1 Is my donation tax deductible?
5.2 What are the methods of payment?
5.3 How do I know my donation is secure?
5.4 Is there a minimum donation?
5.5 Is there a way to keep track of my donations?
Gifts
6.1 Can I make my donation a gift?
Project Selection
7.1 How do I choose a project that is right for me?
7.2 What is the IraqPartnership Country Fund?
7.3 What happens if a project receives more funding than it requests?
7.4 What happens if a project receives only a small proportion of the funding it requests?
7.5 How do I keep track of the progress of a project?
GENERAL
About IraqPartnership
1.1 What is IraqPartnership?
www.IraqPartnership.org is a website established by the U.S. Agency for International Development (USAID) and GlobalGiving to enable donors to give directly to development projects in Iraq. This site allows individuals and organizations who want to contribute to the future of Iraq to read about and donate directly to a variety of existing programs in Iraq supported by USAID.
All the projects featured on this site have been carefully selected by USAID and our partner, GlobalGiving, and are designed to support ongoing USAID activities. In this way, IraqPartnership will contribute to the strategic objective of USAID, while offering a secure structure for the general public's involvement in discrete, tangible development projects.
1.2 What is USAID's relationship to IraqPartnership?
IraqPartnership is a cooperative effort of USAID and GlobalGiving, a leader in online philanthropy. USAID has selected and vetted projects, and GlobalGiving is making it easy for individuals to give directly. USAID has authority to solicit and accept donations under Section 635d of USAID's framework legislation, the Foreign Assistance Act of 1961, as amended, and under the procedures established by ADS 628.
USAID, headquartered in Washington, DC with field offices around the world, is the principal U.S. agency extending assistance to countries recovering from disaster, trying to escape poverty, and engaging in democratic reforms.
USAID is an independent federal government agency that receives overall foreign policy guidance from the Secretary of State. USAID's work supports long-term and equitable economic growth and advances U.S. foreign policy objectives by supporting:
economic growth, agriculture and trade;
global health; and,
democracy, conflict prevention and humanitarian assistance.
USAID works in close partnership with private voluntary organizations, indigenous organizations, universities, American businesses, international agencies, other governments, and other U.S. government agencies. USAID has working relationships with more than 3,500 American companies and over 300 U.S.-based private voluntary organizations.
For more information on USAID, visit www.usaid.gov.
1.3 Does IraqPartnership charge a fee?
IraqPartnership charges donors a 10% fee to cover the costs of aggregating and vetting credible funding opportunities and presenting them on the website. There is also a nominal fee that covers the cost of transferring funds overseas. Between 85-90% of your money goes directly to the project you choose to support. This fee is one of the lowest fees available in international philanthropy, and because funds go directly to the project level, your contribution goes much further than most other international giving options.
All USAID funded programs include both the direct and indirect costs of the implementing organization. Implementation is by private and voluntary organizations that do not earn a profit.
Back to top
About GlobalGiving
2.1 What is GlobalGiving?
GlobalGiving was founded by two former World Bank executives who decided to use the Internet to create a highly efficient marketplace that enables more funding to reach projects throughout the globe, and, at the same time, provides a more transparent, engaging way for donors to give. GlobalGiving enables donors to give directly to projects, so they know exactly how their money is being allocated. Donors can see progress updates on most projects as funding is received and goals are met.
For more information about GlobalGiving, visit www.globalgiving.com.
2.2 What is GlobalGiving's relationship to IraqPartnership?
GlobalGiving was sub-contracted by USAID to develop IraqPartnership. GlobalGiving develops similar customized giving portals to corporate, nonprofit, and official customers, and also supports a general site for international giving (www.globalgiving.com) that is accessible by anyone interested in giving directly to projects.
2.3 How are GlobalGiving's services different from those of other giving facilitators?
GlobalGiving differs from other giving facilitators in the following ways:
GlobalGiving connects donors directly at the project level, versus to organizations that run projects but maintain control over how contributions are allocated or spent.
Enabling donors to give directly to projects offers them more choice – donors can browse through a broad range of geographies and themes such as health, education, environment, among others – and they know exactly how their money will be used.
By working through trusted partners, GlobalGiving is able to identify, vet, and promote projects that might not otherwise receive support because of distance, technological difficulties, or language barriers.
2.4 How is GlobalGiving funded?
GlobalGiving is supported by leaders in philanthropy, official aid, and the private sector, including USAID, Hewlett-Packard (HP), the Skoll Foundation, Omidyar Network, the Sall Family Foundation, the Hewlett Foundation, the Charles Stewart Mott Foundation, and the W.K. Kellogg Foundation, among others.
GlobalGiving is made up of two entities: a for-profit called ManyFutures, Inc and a nonprofit called GlobalGiving Foundation. GlobalGiving.com is a service provided by Many Futures, Inc. All donations and funding grants are processed through the GlobalGiving Foundation, a registered 501(c)3. All donations, as a result, are tax-deductible to the full extent of the law.
2.5 What is GlobalGiving's Mission?
GlobalGiving's mission is to build an efficient, open, thriving marketplace that connects people who have community and world-changing ideas with people who can support them.
Back to top
Projects
3.1 How are IraqPartnership projects identified and selected?
USAID has identified and vetted projects to ensure they are legitimate, well-run, and meet all applicable legal and regulatory requirements set out in U.S. law.
As part of the posting process, detailed background information has been collected on the project's objectives and expected outcomes. Because of the security issues in Iraq, the IraqPartnership website does not provide specific information on project leaders, project locations, and beneficiaries.
3.2 How does the money get to the project?
Each month, the contributions from all donors are pooled by GlobalGiving, which works with USAID to transfer the money to the project.
Security and Privacy
4.1 What is the due diligence process, and how do I know the project leader is trustworthy?
USAID and GlobalGiving work with a wide range of established, respected organizations, who authenticate the projects in the field, and ensure the legitimacy of each project leader. These relationships give IraqPartnership a unique portfolio of credible projects not found on any other site.
All projects on IraqPartnership are vetted for eligibility – by USAID – to receive international grants. This means that these projects have satisfied the IRS guidelines for international grant making as well as the new voluntary guidelines for anti-terrorism set forth in the U.S. PATRIOT Act.
4.2 What is IraqPartnership's privacy policy?
When you make a contribution to a project on IraqPartnership, your name, billing address, email address, and credit card information are collected by a third-party credit card vendor (VeriSign or PayPal).
If you ask to be placed on GlobalGiving's email list and choose to receive newsletters, you will be asked to provide your name and email address. Otherwise, you may elect to remain anonymous to GlobalGiving.
The IraqPartnership site uses persistent "cookies" to authenticate the identity of the user. GlobalGiving and USAID take the safeguarding of any personally-identifying information very seriously. Any information collected using the "cookies" associated with the IraqPartnership site will be used only in connection with the administration of this web site.
We collect this information only to authenticate your identity while you are using this IraqPartnership web site and ensure continuity for the user within their session. This "cookie" has no other function and GlobalGiving and USAID will not share any information associated with the "cookie" with individuals not connected with the administration of this web site.
USAID will not receive the names of donors from GlobalGiving.
Back to top
FOR INDIVIDUALS
Making a donation
5.1 Is my donation tax deductible?
Yes, donations to IraqPartnership go through The GlobalGiving Foundation, a 501(c)3 nonprofit, and thus all donations are tax deductible for U.S. taxpayers to the full extent permitted by law.
5.2 What are the methods of payment?
IraqPartnership currently accepts credit and debit cards, checks, PayPal, and stock transfers. Payment is made through The GlobalGiving Foundation.
To pay by credit/debit card or PayPal, click "Give Now" and we will process your transaction through our secure server.
Checks to projects featured on IraqPartnership should be made payable to The GlobalGiving Foundation. The project ID should be written in the memo field. Mail all checks to:
The GlobalGiving Foundation[an error occurred while processing this directive]
For stock transfers, please call GlobalGiving at (202) 232-5784, or email to [email protected].
5.3 How do I know my donation is secure?
All credit card donations are collected through VeriSign, a secure third party with whom we contract for this purpose, or PayPal, also a highly secure third-party payment system. Because all transactions go through third parties, neither IraqPartnership nor GlobalGiving receives or retains credit card numbers. Furthermore, we will never release your personal information to any outside party unless authorized to do so. All donations made through PayPal, the leader in online payments, are kept private over its secure network.
Learn more about PayPal.
5.4 Is there a minimum donation?
The minimum donation is $10.
5.5 Is there a way to keep track of my donations?
When you give through IraqPartnership, you will be asked for a minimal amount of information in order to create a user profile. This profile will allow you to keep track of your giving history, and to access project updates. In addition, all contributions made to projects through IraqPartnership will be acknowledged with a receipt.
Gifts
6.1 Can I make my donation a gift?
Yes, any project can easily be turned into a gift. Simply follow the directions upon Check-Out, and we'll send the recipient a personalized card with information on the project and a customized message from you.
To see a card, click here.
Back to top
Project Selection
7.1 How do I choose a project that is right for me?
The IraqPartnership website allows your to browse through a range of projects from different parts of the country, in a variety of themes such as health, education, economic development, and the environment. See the full list of projects.
7.2 What is the IraqPartnership Country Fund?
The IraqPartnership Country Fund supports is an option for donors who do not want to donate to a specific project but would like USAID and GlobalGiving to distribute the funds to the project(s) most in need of funding. This is a terrific option for those donors who want their support to be broad-based.
7.3 What happens if a project receives more funding than it requests?
There may be some instances in which projects receive more funding than the project leaders had requested. If so, USAID will work with GlobalGiving to contact donors who have contributed to projects that have exceeded the funding amount and work with them to reallocate funding to a similar project.
7.4 What happens if a project receives only a small proportion of the funding it requests?
Occasionally, there will be projects that receive only a small percentage of their requested funding. If a project is pledged less than the requested amount, USAID and GlobalGiving will either work with the project to see if a subset of the project goals can be met through that funding, or with donors to identify an appropriate substitute project to which funds can be reallocated.
As is the case with projects that exceed their funding goals, this occurs only rarely. In many cases, someone-e.g. the group sponsoring the project-has agreed to provide for any remaining funding needs by the time the project is implemented. For the past several years, less than 10% of the total number of projects receiving donations through globalgiving.com had funds reallocated.
7.5 How do I keep track of the progress of a project?
Donors should visit the IraqPartnership website frequently to see periodic progress reports, which are posted as they become available.