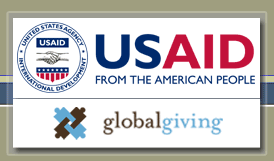 Home | Choose a Project | Links |Learn more | Welcome Guest – Login |Giving Cart | FAQs |Democracy & Governance |Economic Development | Health

 IraqPartnership Links
US Agency for International Development
USAID is an independent federal government agency that receives overall foreign policy guidance from the Secretary of State. The agency works in agriculture, democracy and governance, economic growth, the environment, education, health, global partnerships, and humanitarian assistance in more than 100 countries to provide a better future for all.
US Assistance for Iraq (English)
US Assistance for Iraq (Arabic)
USAID Primer: What We Do and How We Do It
The USAID Primer is a document that explains the internal doctrines, strategies, operational procedures, structure, and program mechanisms of the U.S. Agency for International Development (USAID).
USAID Publication: A Year In Iraq
This text explains how the U.S. Agency for International Development (USAID) and the Coalition Provisional Authority (CPA) has supported Iraq's recovery.
US Embassy Baghdad
The US Embassy in Iraq supports and explains American foreign policy and U.S. national interests, promotes mutual cultural understanding, manages economic and political relations between the U.S. and Iraq, and provides a variety of travel and citizenship related services for American citizens and citizens of Iraq.
US Department of State
The Department of State is the lead federal agency responsible for U.S. foreign affairs. The Department of State help to shape a freer, more secure, and more prosperous world through formulating, representing and implementing the President's foreign policy.
Mercy Corps
Mercy Corps exists to alleviate suffering, poverty and oppression by helping people build secure, productive and just communities. The agency's programs currently reach 7 million people in more than 35 countries. Since 1979, Mercy Corps has provided over $1 billion in assistance to people in 81 nations. Mercy Corps is a nonprofit organization with headquarters in Portland, Seattle, Cambridge, Washington, D.C. and Edinburgh, Scotland.